PARIS FOR WOMEN  & WINE WITH EVERYTHING:
Walking tours designed by and for women
Our Paris Tour brings women to the city that embraces the feminine mystique.  It's an indulgence in la vie parisienne: its art, architecture, history, cuisine, gardens and secrets.  We'll see some major landmarks, enjoy private visits to museums, take out of town trips, stroll delightful Parisian neighborhoods, take a food tour on the Rue du Bac, dine where the Parisians dine, sip rich French wines, visit a few off-the-beaten-track places, and relax in Belle Epoque cafés.   Whether this is your first trip to Paris or you are a seasoned traveler, The French Traveler wants you to love Paris the way we do, feel its excitement, and experience it first-hand with a French teacher/ travel professional who has lived there since 1994.
Our Wine with Everything tour delights in the tastes and sights of Provence, the southern part of France known for its stunning landscape and culinary prowess.  The French Traveler brings you a vineyard a day while discovering the villages, chateaux, painters, hills and valleys that make this region so breathtakingly beautiful.   Our base is the town of Aix-en-Provence, quintessentially Provençal, the birthplace of painter Paul Cézanne and childhood home of author Emile Zola.  Aix boasts a vibrant town center, pedestrian streets, excellent restaurants, museums, boutiques, and 42 fountains   Beautiful private mansions and sculpted doors, wrought-iron balconies, the outstanding Caumont Art Center and a renowned music festival every summer all contribute to Aix's reputation as a highly desirable cultural destination.
These intimate walking tours of Paris and Provence, limited to 8 women, include accommodations in deluxe hotels,  a full week metro/bus pass in Paris, guided visits, meals with wine in notable establishments, exclusive tours and receptions in private homes,  initial transfer between the airport and our hotel.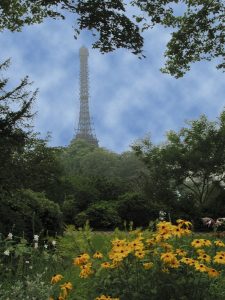 We'll be happy to talk over our upcoming itineraries with you and answer any questions you might have.  The French Traveler invites you to pack your bags, don comfortable shoes, grab a travel journal, invite your mother-sister-friend-cousin-roommate-neighbor to join us in a celebration of Paris or Provence.  Régalez-vous!
DATES FOR UPCOMING TRIPS:
2018 Paris: July 1-9, 2018
Provence: June 23-30 2018 
SIGN ME UP NOW:
WINE WITH EVERYTHING