The French Traveler team 
prides itself on excellent customer service, dedication to each traveler's needs, attention to detail and the ability to help you get the most from this cross-cultural experience. We speak fluent French and know the country intimately. We arrange for meals with the local hosts and introduce you to people whom you would never be able to meet on your own. We prefer to spend time only in France, savoring one city at a time and fan out from there rather than race through the European countryside to see several cities in as many days. You'll unpack only once. We take pains to discover the local fauna and flora, seek opportunities to converse and interact with the locals, experience what the region has to offer in the way of culture, cuisine, and sights. We extend our network of friends to make the trip a highly personal one for you. Many of our travelers form friendships during their trip and often plan future
travel together.  We invite you to come along and become Travelers with us.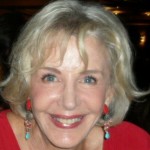 Valerie Sutter, Founder and Director
of
The French Traveler

,
 has been chasing France her entire adult life.  Falling in love with the subject in high school led to a major in French at university; from there, she proceeded to live and work in Lyon, France where she obtained a a Master's degree from the Faculté de Lettres de Lyon.   Starting her teaching career in France, then continuing in Brazil, she treasures her many years of teaching students in both those countries for over 18 years, as well as her years at prestigious private schools in New England upon her return to the US.   Her enriching experiences living in and traveling throughout France for over thirty years enabled her to found The French Traveler in1998. Combining her love of language with her passion for cultural acquisition, she believes in foreign language immersion as the means of knowing and understanding another culture and most important, one's own.  Fluent in French and in Portuguese with a modest grasp of Spanish, Valerie resides half the year in France preparing trips and the other half in Florida, where she teaches French part-time and is a member of her local Alliance Française. She practices swimming and ballroom dancing in her leisure time.
Annick Deroux, Associate in the Provence: Terre des Cinq Sens Program, brings her personal background of French medicine and pharmaceutical plants to the fore. Trained in France with a degree of Docteur en Pharmacie, Annick's many years in the medical industry, her multiple training courses in therapeutic healing, and her varied experiences both personal and professional fuse with her interests in one of France's growing passions: ecology and well-being.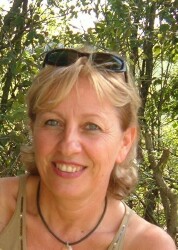 Annick's many talents, gentle touch, and easy smile make this week a study in the latest techniques and thinking in French well-being. She proposes to immerse you in French by bringing you to the center of yourself through the five senses, a sort of getting reacquainted with your inner you while steeping yourself in French language and culture. A devoted mother of two, a lover of opera and painting, a former apicultrice and gourmet cook in her own right, Annick's special journey is both highly personal and highly professional. You're in good hands. To insure a complete immersion program for students of French, no English will be spoken in the Terre des Cinq Sens program. Not recommended for total beginners.
Pascale Rihouet, Associate in the Paris for Women trip, is a lively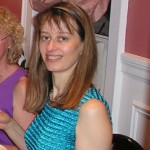 born-and-bred Parisian who has been living intercultural adventures ever since she started teaching French in England, Germany and Paris in the 1980s. Mastering the English and German languages along the way, Pascale decided to pursue her love of art history and became certified by the French Ministry of Culture as guide-interprète et confériencière in the 1990s. This led to professional guiding at the Louvre and other museums, as well as tours in various Paris neighborhoods, while teaching Art and Architectural History in Courbevoie, outside Paris. With her gift for languages, she picked up Spanish and Italian to add to her repertoire. Going to America to pursue a degree in art history was a natural progression for such an adventurous spirit; she earned a PhD from Brown University in 2008 and began a teaching career at the Rhode Island School of Design, publishing in art history reviews and winning several academic awards. Married to an American, Pascale is raising a bilingual daughter in Providence; straddling both cultures, American and French, she brings out the best in each. Her unconventional style, her ingenuity, and her free-spirited jaunts off the beaten track contribute to marvelous guiding for our Paris tours. You'll never forget them.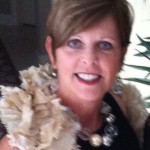 Donna Katos has been a passionate Francophile since junior high school.  Prior to becoming a litigation attorney in 1981, she pursued her interest in France and her love of the French language by attending the Sorbonne in Paris for a year where she obtainedle degré supérieur de la langue et de la civilisation française  and earning her B.A. in French from Mary Washington College.  Throughout her career, Donna maintained her fluency in French and has traveled extensively in France, including organizing trips for friends to Paris, Bordeaux, Burgundy, Normandy and the Loire valley.  She now lives in Sarasota, Florida where she golfs, teaches Business Law, and pursues her passion and enthusiasm for France as an integral part of The French Traveler team.
Contact us. We invite questions and we'd be happy to help you sort out your travel arrangements. Come and have fun with us. Challenge yourself to revive your rusty French, revisit a favorite haunt or simply enjoy France and its riches for the first time. It's a journey you won't regret!
The French Traveler is proud to be advised in educational matters, by the following members of the Advisory Board:
Professor Jean-Pierre Berwald, Universityof Massachusetts, Amherst, MA
Professeur Henri Mazille, Institut National des Sciences Appliquées, Lyon, France
Professor Brian Thompson, Universityof Massachusetts, Boston, MA
Professor Joseph Reiter, Perry Professor Humanities, Phillips ExeterAcademy, Exeter, NH
Professor Griffin Morse, Director, School Year Abroad, Zaragoza, Spain
Joyce Beckwith, AATF Regional Representative/New England
Elaine Uzan Leary, Executive Director of the American Friends of Blérancourt, NYC