Eté 2018 Lyon: Tour Schedule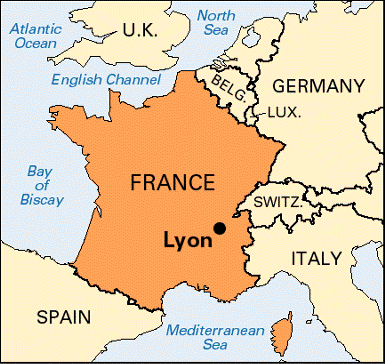 Phrases in brackets = Themes relative to the curriculum of advance testing
* = meals at leisure; ♥ = additional cost involved
dimanche 15 juillet 
Bienvenue à Lyon!  Apéritif d'accueil in our new surroundings and welcome dinner in one of Lyon's acclaimed restaurants.                                                                                           DINNER
 lundi 16 juillet 
La ville [l'esthétique: le patrimoine]  We'll start today's activities a bit later to help ease the jet lag. With our private guide, we'll learn the history of Lyon: capital of Gaul under the Romans, city of startling World Heritage patrimony, leader in gastronomy and culture.  Afternoon discovery of the town on foot.                                                       LUNCH
mardi 17 juillet 
L'education en France [la famille & la communauté]   Schools and curriculum are changing fast and furiously in France: there are several major reforms in the works, and we'll touch on the thorny subject of integrating children of immigrants into mainstream classes and curriculum, comparing the French methods with those in the US.  Afternoon visit with teaching collègues from Lyon with whom we'll be able share frustrations and aspirations of our noble profession.
LUNCH
mercredi 18 juillet 
Le français à travers l'art [l'esthétique: les arts du spectacle]  How can the arts–painting, sculpture, dance, music, entertainment—play a role in our teaching of French?  Several tools for the use of art in the classroom will be shared, followed by a visit to the Musée des Beaux-Arts in the afternoon, one of France's best and a favorite of our teacher.   LUNCH
jeudi 19 juillet*♥
Journée libre ou Aix-les-Bains [l'esthétique: le patrimoine]  You're free to roam Lyon as you like, or come with us as we discover the town of Aix-les-Bains, the "Riviera of the North" and its sumptuous Abbaye de Hautecombe, overlooking the Lac du Bourget.  Stunning patrimony, elegant shopping and strolling, a boat ride on the lake or a visit to the impressive Musée Faure—possessor of the second largest collection of Rodin after Paris— will make your day.
MEALS AT LEISURE
vendredi 20 juillet
Les Françaises dans l'histoire [les défis mondiaux: les droits de l'être humain]  The recent passing of Simone Weil, an escapee of the death camps and tireless champion of women's rights, reminds us of the importance women have played throughout time in France.  From queens to peasants, aristocrats to résistantes, from scientists to prize-winning novelists, we'll discuss how French woman have greatly contributed to shaping the history of France. This afternoon we'll change gears as we plunge into the somber and poignant environment of the Centre d'Histoire de la Résistance et de la Déportation, the site of which was home to the Gestapo in Nazi-occupied France, and revisit the compelling trial of Klaus Barbie, le boucher de Lyon.                                                                                                                LUNCH
 samedi 21 juillet*♥ 
Journée libre ou Le Chambon-sur-Lignon  [les droits de l'homme et du citoyen] Join us today as we journey through the dense forests of the Haute-Loire to visit a little town high in the mountains which played an extraordinary role during World War II: together, silently, the townspeople saved hundreds of adults and children from the Nazi death camps by harboring them in their farms, schools, families.  This is the only village in France to be officially recognized by Yad Vachem, the world Holocaust Center in Israel, with the honor of "Righteous Among the Nations."  The mayor of the town has offered to lead a guided visit of the Memorial Center, where activities for teaching the Holocaust await us.
[Note that there is currently a most impressive exhibit taking place at the Kupferberg Holocaust Center at the Queensborough Community College in Queens, NY about this very story, called "A Conspiracy of Goodness."  See the exhibit information here. Runs through the end of June, 2018]
LUNCH INCLUDED
dimanche 22 juillet
L'immigration en France [la quête de soi: la langue et l'identité]  Immigration from many different countries has been as much a part of France through the ages as America, with Liberté, Egalité, et Fraternité the devise which has guided the French process….until recently.  As a way of approaching this complex issue, we will study the Algerian immigration to France, which started before World War II, and the subsequent generational differences it has brought about. How has France reacted to this influx, and more importantly, what are the sentiments of those who immigrated?  We will be exposed to a very personal approach to the Algerian experience, a view from the inside.  Afternoon visit to the mosque of Lyon, the second largest in France, with a private citizen who knows it best.     This evening, you'll have the opportunity to dine with a French family in their home.  You'll be paired off two by two and whisked away chez l'habitant for an authentic repas en famille, a rare treat for the traveler.                                         DINER EN FAMILLE 
lundi 23 juillet*♥ 
Journée libre ou La Route des Vins de la Vallée du Rhône [l'esthétique: le patrimoine] Come discover the renowned wines of the Vallée du Rhône, the second largest vignoble in France.  Lush vineyards, dizzying slopes tumbling down to the Rhône, and iconic Roman vestiges make for an incredibly photogenic day in the heart and soul of the Rhône valley.  We'll visit the villages of Tournon and Tain l'Hermitage; a train ride through the picturesque Vallée du Doux, a visit to a chocolaterie and une balade parmi les vignes will complete your dépaysment.                                       MEALS AT LEISURE
mardi 24 juillet
Faites votre choix! [l'esthétique: le patrimoine]    Spend your morning either at a cooking class* learning the secrets of Lyon's culinary traditions or on a walking tour of Lyon's exemplary murs peints.  Choose your afternoon pleasure either on a vaporetto down the Saône to visit Lyon's new quartier des Confluences, or on a guided visit of the Mémorial de la Prison de Montluc, where prisoners were interned by the Gestapo before being sent to the death camps. A vous de choisir!                 MEALS AT LEISURE
mercredi 25 juillet
Journee entièrement libre [l'esthétique: le patrimoine]  Spend the day at your leisure.  There's so much to do in the area—several excellent museums beckon (Mémorial Jean Moulin, Musée des Arts décoratifs, Musée Gallo-Romain), as well as charming neighborhoods to visit or revisit.  Grenoble is but an hour away by train, Aix en Provence just 90 minutes down the rails.  Or buy those last-minute presents for family and books for your students; les soldes will still be going strong.  Dîner de clôture ce soir.                                                            DINNER
jeudi 26 juillet 
Departure is always bittersweet, and we encourage you to stay longer in France if you can.  There are so many options for delightful extensions nearby; rent a car and explore Provence, Alsace, the Loire.
If you're spending the night in Paris before your flight home and would like to continue your immersion in la langue et la culture françaises, we're offering a private soirée* with French singer-songwriter Eric Vincent on his boat in the shadow of the Eiffel Tower.  Dinner on the Seine, a serenade with a guitar….c'est magnifique, une fin parfaite!  Maximum 10 places.
SOIRÉE EXCEPTIONNELLE
*extra cost
But don't take our word for it!  Listen to what your colleagues have to say below: