Wine with Everything: Provence 2018
A wine tour for women | August 25-Sept 1, 2018
Ladies: we've all been to Girls' Night Out.  AND,  we've all been to wine tastings. Now, have the best of both! Join The French Traveler for 8 glorious days in the south of France on our exclusive women's only WINE WITH EVERYTHING Summer 2018 tour!
Ahhh, Provence: dazzle your senses with its sights, sounds and tastes. Our tour takes to you exclusive vineyards way off the beaten track, some known only amongst the vignerons (wine makers) themselves.  All visits are private and pre-arranged. You'll meet with the owners of the chateaux, sample their wines, take a personal tour of the premises.   Excellent choices and quality are our hallmark.  You'll be well received and well rewarded.
In addition, we'll learn about wine with our private oenologue who will teach us the science and the art behind the wine.  We'll learn that it's not all magic; it's a lot of hard work.  You'll come back more knowledgeable and more appreciative of the wines you consume.  Prepare to impress your friends upon your return.
But it's not just wine.  Perched villages, local galleries, seaside ports, charismatic chefs, dynamic markets, and gastronomic meals are part of the tour.  Lots of laughs, too.  Local color and provençal customs are woven in the fabric of this tour to make it as authentic as possible.  You become a traveler, not a tourist; you're living an experience, not checking off a bucket list.
Keeping our group small (8 maximum) ensures personalized service and attention to every detail – a specialty of The French Traveler. You'll stay in a deluxe hotel in the town of Aix-en-Provence–quintessential Provence–where you'll unpack only once. Daily activities and travel arrangements are expertly planned and prepared, so you can relax and enjoy our various activities while savoring the unique wines of Provence every step along the way.
Summer weather is glorious in Provence.  Warm days, breezy evenings; the vines are growing strong.
At the end of the summer, when the vines are heavy with luscious ripe grapes, the vignerons will take time to wander the vines with us before they become preoccupied with the vendanges, which can happen as early as September.  Our expert oenologue will accompany us the entire time to explain the wine-making process and help us refine our sense of smell and taste of the grapes.
You'll experience the real Provence, une experience authentique!  
Wine with Everything – at least one daily visit to a local vineyard
Wine with Cuisine – gastronomic meals in restaurants and an authentic cooking class
Wine with Art – walking tours "in the steps of the Masters" with bilingual guides
Wine with Shopping – open air markets and specialty shops
Wine with History – trips to centuries old chateaux and "perched villages"
Wine and the Sea – the Mediterranean and the famous cliffs of Cassis
Wine and Leisure – free time for shopping, massage, a day at the spa…Sign me up now!
About Aix en Provence    
This quintessential Provençal town, once the capital of Provence, has been a magnet for centuries for counts, writers, kings, poets and painters. Enamored with its beauty and geography, eminent nobles and merchants contributed to the affluence and growth of Aix, and "Good King René" brought fame and glory to the town by further promoting the arts and culture in the 15th century. Today, Aix is home to numerous painters and artists who continue to appreciate the beautiful light, stunning colors and fine cuisine of the region. Paul Cézanne, a native son of the town, painted prolifically here, immortalizing the nearby Saint Victoire mountain. Years later, Pablo Picasso bought a chateau in a nearby village overlooking the same famous mountain.
Aix boasts a lively student population, a beautifully preserved 17th century quartier, daily markets, elegant shopping, and avenues lined with graceful plane trees, perfect for strolling and relaxing.  Its annual summer music festival is of the highest quality, well reputed in France.
And of course, les vins….as great wine producers, the French understand innately that "wine with everything" goes without saying.  The Romans recognized the favorable climate and rich soil and planted vines on the rolling hills and lush valleys.  Wine production in Provence has continued ever since, cultivating award-winning whites, rosés, and reds that reflect the special terroir* that contributes to their success. These delicious, full-bodied wines with their sparkling color and easy taste reminiscent of summer holidays have become increasingly popular in recent years.  Rosés are especially appreciated in the hot summers in Provence, bringing both clarity and richness to the palate; additionally, both tangy whites and voluptuous reds have benefitted from new wine-making processes in recent years.  Provençal wines have achieved even greater balance and are exceedingly fresh: a perfect accompaniment to the healthy Mediterranean cuisine for which the region is renowned.
*terroir: the unique blending of soil, sun, and personal labor that contribute to the individual characteristics of wines around the world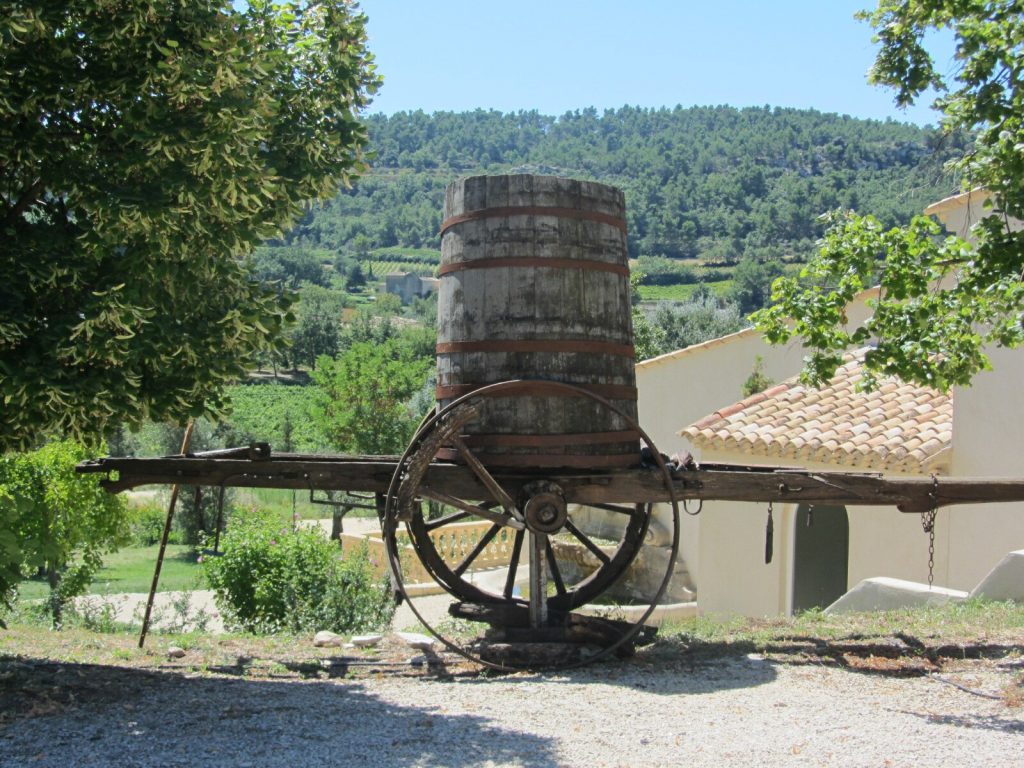 Vineyard in Provence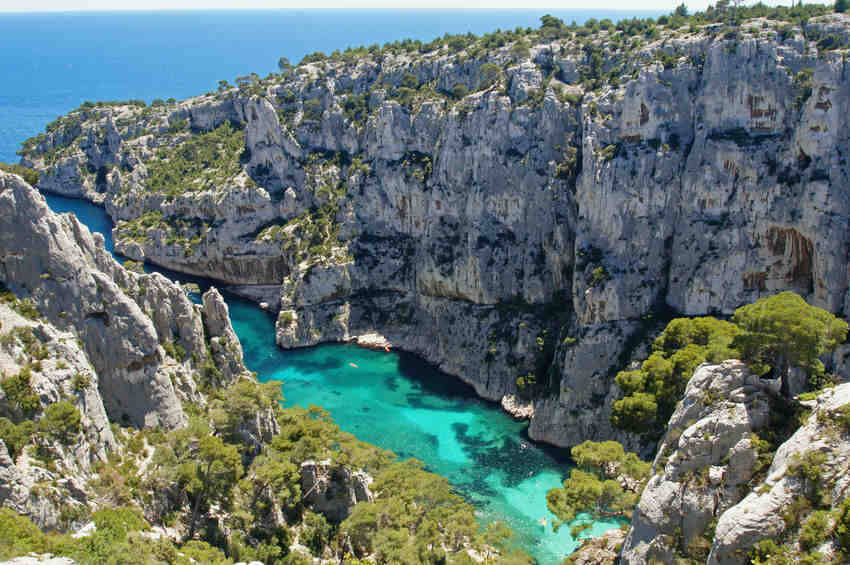 Calanques: the breathtaking scenery of the Mediterranean

Cezanne: la montagne Ste-Victoire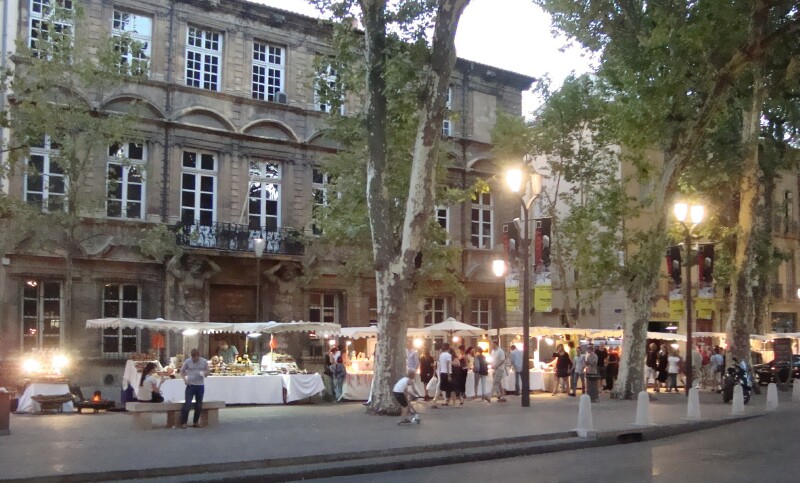 Animation on the Cours Mirabeau all summer long
Sign Up For This Trip
You can reserve your spot for this trip in two different ways, electronically or by mail.
If you would prefer to do so by mail, please print out this form and fill it out accordingly. You can either choose to pay the NONREFUNDABLE deposit to secure your spot ($650) or the full trip amount. Please attach the check to your form and mail them to: The French Traveler, Inc, 1825 Ponce de Leon Blvd #346, Coral Gables, FL 33134 USA.
If you prefer to fill out your information digitally, you may do so by filling out this electronic form. Then you can secure your spot by either mailing a check (as stated above) or through Paypal by clicking here.  Balance for the trip is due June 1, 2018.
Cost of this 7 Night/8 Day Trip | August 25-Sept 1, 2018
$3699 per person, double accommodations in deluxe hotel in the heart of Aix en Provence, double accommodation.  Single rooms supplement, $749.  Group is limited to 8 participants.
Your trip includes
– double accommodations in a deluxe hotel in the heart of Aix en Provence
– one or more vineyard tours or wine tastings per day
– an exclusive cooking class in a private chateau
– guided walking tours
– open air markets and visits to castle ruins
– gorgeous scenery and trip into the Luberon Valley
– dramatic sea cliffs and boat ride on the Mediterranean
– breakfast every day plus lunch or dinner on other days where noted
– leisure time for shopping, painting, massages at two gorgeous spas right in town
– wine instruction with a certified oenologue
– bilingual guides, personally overseen by the Director of The French Traveler
Your trip does not include:
– airfare to France and land transportation to Aix en Provence [nearest airport is Marseille]
– tips for drivers and guides
– trip cancellation insurance (click here for a quote)
– meals at leisure
– laundry, personal grooming needs
– additional wine at meals
– one-day optional trip to Châteauneuf-du-Pape, slightly north of Avignon; $699 extra (see below)
Registration
$650 non-refundable deposit due as soon as possible to reserve a spot.  Balance due on or before June 1, 2018.  Print out the Registration Form here.  Trip viability will be determined June 1, 2018.
Cancellation
Cancellation must be received in writing before May 31, 2018; although your $650 deposit is non-refundable, we will refund anything over the deposit that you may have pre-paid.  We will gladly apply your $650 deposit to a future trip you take with us.  We highly encourage the purchase of trip cancellation insurance which will insure you against unforeseen circumstances that prevent you from going.
If trip is cancelled by The French Traveler, all monies are promptly returned.
Our one-day extension to Châteauneuf-du-Pape
We hope you'll be able to extend your stay to include our delightful one-day, one night jaunt to Châteauneuf-du-Pape on Saturday, September 1, 2018 in the Côtes du Rhône region, for an additional $699.  Return for a final evening in Aix or feel free to spend the night on your own elsewhere that evening (Avignon, Orange, Châteauneuf, etc) at your own cost.
Participant Responsibility
The French Traveler has worked hard to bring you the best of Provence.  We expect you to read the pre-departure information and be in sufficiently good health to undertake the trip. This is a walking trip, and much of our discovery of Provence is done on foot and in private air conditioned van. We expect that you can walk around town and through the vineyards. If you have certain dietary or other restrictions, please let us know. Vegetarian diets can usually be accommodated, but we regret that our chefs cannot accommodate a vegan diet. This is a wine tour and wine consumption is at your discretion; we ask that you respect your fellow travelers and drink responsibly.
It is understood that any airfare, rail, or automobile arrangements made by the participant is solely a matter between those companies and the individual. Baggage is entirely the participant's responsibility. The French Traveler accepts no liability for any carrier's cancellation penalty incurred by the purchase of a non-refundable ticket connected with the program.
Responsibility of Organizer
The French Traveler has exercised careful consideration with regard to the safety and well being of participants. However, we can assume no liability for injury, damage, loss, accident, delay or irregularity in connection with the service of any airplane, automobile, train, cable car, motor coach, metro or other conveyance, or for the acts or defaults of any company or person engaged in conveying passengers in carrying out the arrangements of these programs. We cannot accept any responsibility for losses or additional expenses due to delay or changes in air or other services, sickness, weather, strike, war, force majeure, or other causes beyond our control. All such losses or expenses will be borne by the passenger, as tour rates provide for arrangements only for the time stated.
The French Traveler reserves the right to change or substitute any activities described above for reasons of inclement weather, unforeseen circumstances, natural acts or inconveniences or reasons beyond our control. We reserve the right to make such alterations to this published itinerary as deemed necessary. We reserve the right to cancel this program prior to departure, in which case the entire payment will be refunded without further obligation on our part. The right is also reserved to decline any person deemed inappropriate for the program. No refund will be made for any unused portion of this program.
Program price is based on exchange rate in April 2017; because of current volatility in the financial markets, we reserve the right to add a $200 surcharge if the euro/dollar rate reaches or exceeds 1 E = $1.20 by April 1, 2018.
About the French Traveler
The French Traveler, Inc. has been offering small group tours to France since 1998.   Our goal is to turn every trip you—the discerning traveler—take with us into a journey of excitement, learning, fun and passion.  It is a pleasure to design itineraries in a region such as Provence and bring inquisitive travelers to our favorite destination. We speak fluent French and know the area intimately; we personally accompany all our groups.  We live in Provence for much of the year and take time to cultivate relationships with our favorite vendors. We extend our network of friends to make the trip a highly personal one for you, arranging meals with local hosts and introducing you to interesting people you might otherwise never meet on your own.  We've chosen the best and most respected vineyards around Aix to share with you. Our native oenologue [professional wine expert] will teach us the secrets of wine making and the differences between varieties in wine.  We know you'll delight in this region and suspect that you'll return home something of an expert.
Change of dates
Please note that if you would like to join this tour but are unable to make these dates, The French Traveler is happy to arrange other trip dates that suit your schedule. Please contact us for further details if you have six-eight committed women for another date.