Minimum 6 participants, maximum 10
♥= Participants invited to eat together, meal not included
The Belle Epoque Itinerary
 Saturday
Arrival day: The French Traveler welcomes you to Paris.  Take a few moments to catch your breath in your beautiful new surroundings. An afternoon treat in the lounge of our hotel and a leisurely stroll through our Paris neighborhood allows us be introduced to each other and the excitement that awaits on our Paris itinerary.  Share cocktails this evening, followed by dinner at a well-loved restaurant in the neighborhood.   DINNER
Sunday
Let's go exploring!    The magnificent Opera House this morning and a delightful parfumerie.  Lunch♥, and then a stroll through the Tuileries and a stop at the Orangerie for an hour with Monet.  And what better way to end our stroll and enjoy this city on the first day than with a relaxing and elegant dinner cruise?                       DINNER
Monday
Le Palais Royal!  Les passages!  and then lunch in the wonderful bistro where Diane Keaton and Jack Nickleson met for their birthdays.  Then off to the Parc Monceau and the exquisite museum of Nissim de Camondo with its poignant story, and finally, an optional evening concert in the glorious Sainte-Chapelle which leaves you dreaming of kings and princesses.       LUNCH 
Tuesday
A private visit to the Musée d'Orsay today to admire the 19th century works of art with lunch in its delightful Belle Epoque restaurant.  Free afternoon before an evening visit to the Eiffel Tower when the city is best viewed at night.  Champagne at the top!                                LUNCH 
Wednesday
 Another Belle Epoque essential is our visit to the countryside and the discovery of Monet's lovely house and unforgettable gardens in Giverny.  Travel by train and bus.  Lunch♥ is available on the premises. Time permitting, we'll visit the Musée des Impressionismes, a short walk from Monet's house.  
Thursday
Morning at leisure, or indulge your culinary senses in an optional cooking class (lunch is included in the class; you'll eat what you've prepared.)  And then, off to the charming quarter of Montmartre which was at its zenith during the Belle Epoque period, home to artists, can-can dancers, singers, cabaret actors and the like.   Roam its cobblestoned ruelles, review its colorful history, visit some of the important landmarks, and delight in the breathtaking view of Paris from the city's highest point.  Evening cocktails in a quintessential Belle Epoque restaurant.  MEALS AT LEISURE.
 Friday
Another neighborhood favorite today: Le Marais.  Known for its stunning Place des Voges and the vibrant court life of King Henry IV, the Marais is today the trendiest area in Paris, rich with historical landmarks, wonderful museums, hip living quarters and incredible restaurants.  Then on to the delightful Ile St-Louis and finish off with a degustation de vin in a typical Paris wine bar in the Latin Quarter.        LUNCH
 Saturday
A free morning and early afternoon today before an unforgettable candlelight visit to a chateau outside of Paris: Vaux-le-Vicomte, which served as the prototype for Louis the XIV's transformation of his hunting lodge in Versailles.
A fascinating story of a young man's dream gone horribly wrong, we'll learn how the miscalculation of the  king's financial minister in inviting the king to the housewarming party of his new chateau landed the young man in prison for the remainder of his days.  Dinner on the grounds,
Sunday
It will be hard to tear yourself away from Paris at this point for the regularly scheduled departure, so why not stay on for a couple of days and visit the beautiful surroundings outside Paris?
**********
Paris Insider Itinerary
Minimum 6 participants, maximum 10
♥= Participants invited to eat together, meal not included
Saturday
The French Traveler welcomes you to Paris.  Arrive at your leisure and ake a few moments to catch your breath in your new surroundings. An afternoon treat in the lounge of our hotel and a leisurely stroll through our Paris neighborhood allows us be introduced to each other and the excitement that awaits on our Paris itinerary.  Share cocktails this evening, followed by dinner at a well-loved restaurant in the neighborhood.   DINNER
Sunday 
We'll go behind the scenes today at the Paris Opera.  Ever wonder what Edgar Degas based his Ballet Dancer paintings on?  We'll bear witness.  Then off to a new and different lunch experience before a stroll through a fascinating piece of history: the Père Lachaise cemetery.  LUNCH
Monday
Louis Vuitton started out his career as a trunk maker; we'll visit his home and the atelier where the trunks are still made, before lunch in a quaint, local restaurant.  Then a stroll through a magnifique Belle Epoque garden built by a shy, retiring banker at the turn of the century who, at the dawn of photography, amassed an astonishing collection of photographs from around the world to celebrate different world cultures.  Optional concert this evening in the Sainte-Chapelle.  LUNCH
Tuesday
A leisurely morning will allow you to shop, visit a museum or wander around before a boat ride to lunch in an unlikely spot.  An afternoon gourmet foodie tour of the rue du Bac will introduce you to a specialty patissier, a fromager, different wine stores with selections of Armagnac and Cognac, a chocolatier.  No need for dinner this evening after all that wonderful tasting, so we'll finish up with a glass of Champagne at the top of the Eiffel Tower after taking the back door tour of how the tower really works.  LUNCH
Wednesday
This afternoon we'll venture out of the city to another remarkable chateau, Fontainebleau, a favorite of many of the kings, who not only slept there, lived there, hunted, relaxed and loved there but also constructed their own private wing, leaving their indelible mark.  Fontainebleau remains one of the Parisians' most beloved day trips, renowned for its manicured greenery, fine restaurants, and historical chateau.  Lunch in the town of Fontainebleau, then a discovery of the chateau and its grounds.            LUNCH 
Thursday
Why not take an optional cooking class this morning which includes a market tour, the class, and the meal, and bring home some specialty recipes to show off at your next dinner party.  Then, up the hill to Montmartre for an afternoon exploring the back roads this charming area, ending with a cocktail in the most unusual restaurant known only to insiders.  MEALS AT LEISURE
Friday

An encounter with Coco Chanel is sure to be one of the highlights of this trip.  You'll find out more once you've registered; let us just say it's a visit you won't forget.  Then lunch in a charming French guinguette, just as they were painted by the Impressionists,  before a wine-pairing lesson this evening in the Art of the French Apéritif, given in a private home with a woman sommelier.    LUNCH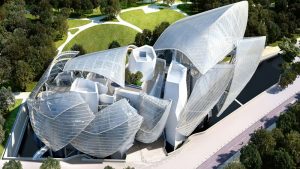 Saturday
The Fondation Louis Vuitton has created the most astonishing art gallery in the heart of the Bois de Boulogne, designed by none other than Frank Gehry.  Opened in 2014, it promised Paris "an extraordinary space for art and culture to demonstrate daring and emotion".  It does not disappoint.  We'll end our extraordinary adventure in Paris on the boat of a French singer/songwriter who will serenade us during a sumptuous dinner cooked by his wife, former restaurateur in Greece.  An unforgettable ending!     DINNER
Sunday
And yes, it is over today….we'll supply Kleenexes as you depart for the airport.  Or perhaps you'd like to prolong your stay a bit, now that you know the city so well, and invite your other half to show him/her around to some of the new places you've discovered.  Vive la France!